ViewTech Borescopes
FABTECH 2021
We'll see you there!
FABTECH 2021
Location: McCormick Place – Chicago, IL
Dates: 09/13/2021 – 09/16/2021
ViewTech Booth Number: B20066 – Hall B – Welding, Welding Automation, Robotics and Industrial Automation
Register to attend FABTECH 2021
FABTECH 2021 Website: https://www.fabtechexpo.com/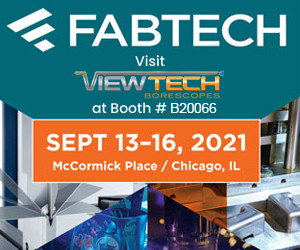 When it comes to metal forming, fabricating, welding, and finishing, FABTECH is the only event that makes it possible to see it all together. This is where you'll find the latest in manufacturing equipment. Discover innovations by application and industry. And see the advanced manufacturing solutions that bring new levels of productivity and efficiency to your operations. FABTECH gives you the tools, technology, and thought leadership to stay ahead of the competition.
ViewTech Borescopes Video – FABTECH 2021 – Booth B20066 – Hall B – Welding, Welding Automation, Robotics and Industrial Automation