"In my experience, ViewTech borescopes are the best units for the best price hands down. But better than that, their customer service is over the top better than any I have experienced."
Shawn S. – Aircraft Technician @ DST, LLC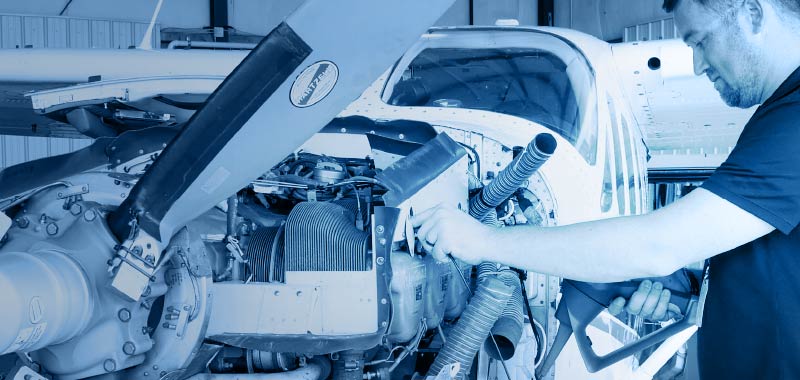 Borescopes For
Aviation and Aerospace Professionals
If you are a technician in the aviation / aerospace industry, a good borescope is absolutely essential to your job. Whether you work on turbines or recips, airframes or avionics, and you are looking to upgrade your current borescope or add a new one to your tool kit, you owe it to yourself to test drive the VJ-3 Video Borescope
For more information regarding the VJ-3 Video Borescope for Aviation Inspections, click here: VJ-3 Video Borescope for Aviation
Regular Visual Inspections
Can Reduce Operating Costs
Catching small problems at an early stage can eliminate the need for replacement parts.
The Top Choice For
Aviation and Aerospace Professionals
RF System Lab was established in 2008 with the goal of bringing affordable, high-quality video borescopes to the market. Our first product, the VJ, set a new standard for portability, ergonomics and ease-of-use, with its industry-first mechanical, joystick controlled articulation. The original VJ was soon followed by the VJ-Advance (ADV), with a larger display monitor, brighter illumination and greater variety of options, including a 3.9mm diameter insertion tube.
Borescopes for
Pratt and Whitney, GE 90, Airframes and More
If you maintain anything from the Pratt and Whitney PT6 to the GE 90, or do airframe, component or FOD inspections, the VJ-3 offers a practical, cost-effective solution to your RVI needs. We are so confident that our borescope can make your job easier that we offer a no-cost, no-obligation demo program so you can try the scope at your facility doing your inspections. No sales rep needs to visit and you can use and evaluate the scope on your own schedule. Call or click to receive your demo video borescope unit and put it to the test. You'll be glad you did.
Read more about the VJ-3 video borescope for Pratt & Whitney Equipment Inspections.
Request A Free Demo Unit
Check the box in the form below and one of our representatives will arrange a free demo unit.

– Or –
Fill out the form below and one of our representatives will contact you.