"Overall great quality. Performs video and takes pictures. Easy usability."
Collin S. – Outage Manager @ FieldCore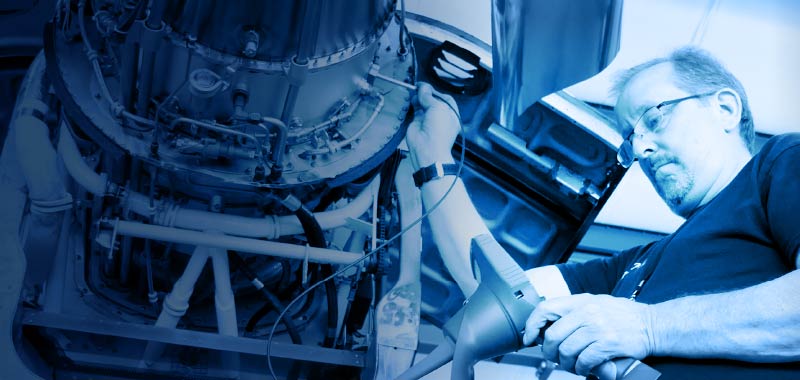 VJ-3 Borescope Applications
For Pratt & Whitney Engines
Widely considered one of the "Big Three" in aero-engine production (along with GE and Rolls Royce), Pratt & Whitney equipment is found all over the world – especially in commercial airline fleets.
More than 25% of the world's passenger aircraft are powered by Pratt & Whitney aero-engines. Over 16,000 large engines are in service – and ViewTech's VJ-3 video borescopes are the perfect tool for keeping these quality engines running at peak performance.
Our articulating video borescopes are the ideal tool for visually inspecting Pratt & Whitney engines, like the V2500, GP7200, PW4000 and PW2000 families, and other popular turbine engines. Airlines count on Pratt & Whitney's commercial engines to power hundreds of flights every day. Now, they can rely on the line of VJ-3 video borescopes from ViewTech to ensure that those aircraft engines are in the best shape.
Borescopes
For Pratt & Whitney Engines
Founded in 1925, Pratt & Whitney is one of the world's leading producers of aerospace turbines and equipment.
Pratt & Whitney Equipment
The VJ-3 video borescope can be used for Pratt & Whitney Equipment Inspections on:
PurePower PW1000G Engine
V2500 Engine
GP7200 Engine
PW4000 Engine Family
PW2000 Engine Family
PW6000 Engine Family
JT8D Engine
JT9D Engine
JT15D Turbofan
PW300 Turbofan
PW500 Turbofan
PW600 Turbofan
PW800 Turbofan
PT6A Turboprop
PW100/150 Turboprop
PT6T Twin Pac Turboshaft
PT6B Turboshaft
PT6C Turboshaft
PW100TS Turboshaft
PW200 Turboshaft
PW210 Turboshaft
Our borescopes provide crews with tremendous precision and control when inspecting any of these Pratt & Whitney machines. Articulated scopes allow the user to reach far into the turbine where the human eye cannot, and make an accurate assessment of condition and performance. Using the built-in, high-quality video display and the flexible scope to perform non-destructive testing, the operator can peer deep into the inner-sanctum of the turbine without a costly, and potentially unsafe, manual disassembly – saving both time and money while increasing accuracy and safety.
Test the VJ-3 video borescope on your Pratt & Whitney equipment at your own facility with our no-cost, no-obligation demo program. Contact one of our sales consultants today to sign up!
Request A Free Demo Unit
Check the box in the form below and one of our representatives will arrange a free demo unit.

– Or –
Fill out the form below and one of our representatives will contact you.