Introducing the New 2.8mm VJ-4 Video Borescope
The 2.8mm VJ-4 delivers all the features you would expect in a high-quality video borescope at a price that makes it accessible to almost anyone. Aircraft & power generation maintenance teams can quickly and easily inspect turbine blades, combustion chambers, cooling tubes, and much more, all without the need for costly and time consuming engine and system tear-down.
If you perform regular maintenance inspections, you owe it to yourself to demo the new 2.8mm VJ-4. Available in 1.0m, 1.5m or 2.0m lengths.
In our discussions with many borescope technicians, we have found that technicians can often access their inspection targets from multiple locations. Using this principle, for example, a technician may be able to inspect a 2.8mm x 2.0-meter (6′ 6″) borescope if the inspector can start the inspection from each end of the pipe.
See the VJ-4 Scope in Action


Quality

You Can Trust

Part of the ViewTech advantage is the full 1-year warranty and free loaner program.
24-7

Support

We provide outstanding service before, during, and most importantly, after your purchase.
Huge On-Site

Inventory

Unlike our competitors we have hundreds of borescopes at our facility, ready to ship out.
Industry-First

Mini-Joysticks

Use the mini-joysticks OR touchscreen to navigate all menus and adjust all settings.
Measurement

& Annotation

Easy navigation of the pop-up menus, on-screen annotation and relative measurement.
Easy Organization

& Storage

Rename folders, images and video files, and set a default storage location for each inspection.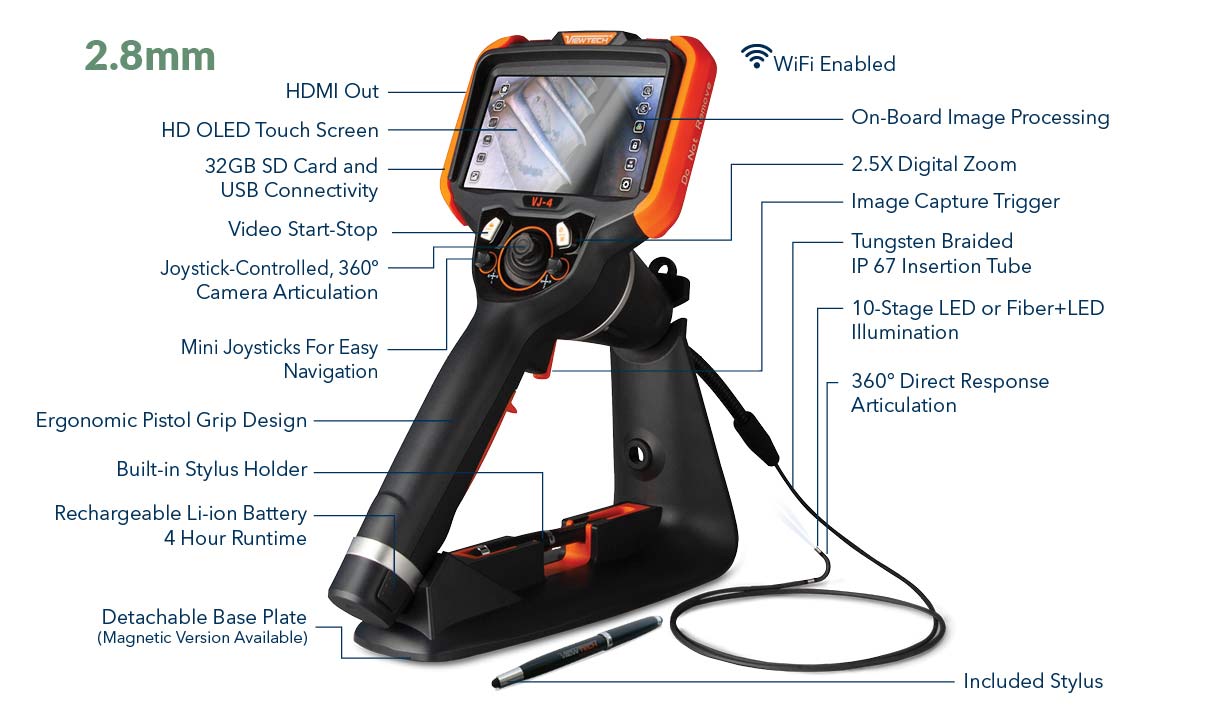 Insertion Tube
Outer Diameter
2.8mm
Length
1.5m, 2.0m or 3.0m
Exterior Material
Tungsten EasyGlide, crush-resistant
Chemical Compatibility
Water, machine oil, heating oil, diesel, 3.5% saline concentrate
Articulation Range
360° around,
130±10° backward (1.0m),
120±10° backward (1.5m),
110±10° backward (2.0m)
Optics
| | |
| --- | --- |
| Angle of View | 120° |
| Depth of Field | 3.0mm – 50.0mm |
| Effective Pixels | 160,000 pixels |
| Illumination Method | 4 Super high-intensity white LEDs |
| Illumination Output | ≤ 8,000lux |
Base Unit
| | |
| --- | --- |
| Display Monitor | 5.5″ OLED touch screen |
| Articulation Control | Thumb-actuated, mechanical rocker |
| Joystick Lock | Automatic |
| Brightness Control | 10-step LED brightness adjustment |
| Control Buttons | Two multi-function mini joysticks and left/right buttons |
| Playback | Photos, videos (w/wo audio), thumbnail view |
| Audio / Microphone | 3.5mm port |
| Internal Storage | 32 GB SD Card | 10,000 photos, 8 hours video |
| Data I/O ports | SD card, HDMI, USB Type C |
| Battery | Two 18650B PCB-Protected Li-ion batteries (rechargeable) |
| Operating Method | One handed, portable |
| Dimensions | 13.6″ x 6.2″ x 7.3″ |
| Weight | 2.09 lbs. / .95 kg |
Manufacturing and Options
| | |
| --- | --- |
| User Interface | Pop-up menu operation, menu navigation, touchscreen |
| File Management | Photo and video recording/pause, playback, thumbnail preview, delete |
| Image Control | Image freeze, image flip, zoom in/out |
| Image Format | BMP, PNG or JPG |
| Video Format | AVI or MP4 |
| Language | English, French, Spanish |
Operating Limits
| | |
| --- | --- |
| Run Time | ≤ 3 Hours |
| Operating Temp. Base Unit | -10 – 50°C, -5 – 122°F |
| Operating Temp. Insertion Tube | -20 – 60°C, -4 – 140°F |
| IP Rating, Insertion Tube | IP67 |
Viewtech Literature

VJ-4 2.8mm BROCHURE
Download the Brochure for the ViewTech VJ-4 2.8mm by clicking the icon above or the link below.

WiFi Instructions
Download the WiFi instructions by clicking the icon above or the link below.

VJ-4 2.8mm USER MANUAL
Download the ViewTech VJ-4 2.8mm User Manual by clicking the icon above or the link below.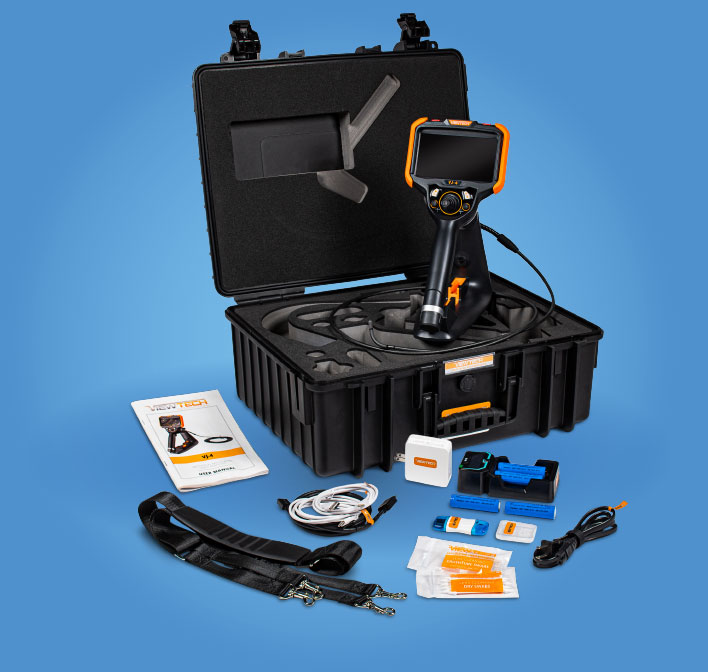 Packed With Power
WHAT'S INCLUDED WITH THE 2.8mm VJ-4 BORESCOPE:
ViewTech's 2.8mm video borescope
1.0m, 1.5m or 2.0m insertion tube
Removable stand

Optional magnetic floor plate stand

Rugged carrying case
4 Rechargeable Li-ion batteries
Battery charger
AV cords
32 GB full-size SD Card
Insertion tube tip protector cap available
Shoulder Strap
Stylus
View Other
Video Borescopes
The willingness to send me a free demo camera really showed me you were proud of your product and you were not afraid to let me put it to the test. Well done!

Andy M.

ECS Technical Services
In my experience, View Tech borescopes are the best units for the best price hands down. But better than that, their customer service is over the top better than any I have experienced.
Clarity on screen is tremendously better than the other scopes, we can almost see the bottom of the component immediately.
Request A Free Demo Unit
Check the box in the form below and one of our representatives will arrange a free demo unit.

– Or –
Fill out the form below and one of our representatives will contact you.