SEE THE
NEW 6.0mm VJ-3 VIDEO BORESCOPE IN ACTION
The 6.0mm VJ-3 delivers all the features you would expect in a high-quality video borescope at a price that makes it accessible to almost anyone. Aircraft & power generation maintenance teams can quickly and easily inspect turbine blades, combustion chambers, cooling tubes, and much more, all without the need for costly and time consuming engine and system tear-down.
If you perform regular maintenance inspections, you owe it to yourself to demo the new 6.0mm VJ-3. Available in 1.5m, 3.0m, 5.0m, or 8.0m lengths.
Thread-On
Accessories Kit

The Thread-on Accessories Kit for the ViewTech 6mm VJ-3 securely attaches to the insertion tube for increased flexibility and utility.
Click on the tips below for more information.

Or check out our dedicated
Dual-Camera
Borescope
If you are interested in a borescope that has both a forward facing camera and a dedicated 90 degree side camera, please see our Dual Camara VJ-3 borescope.

Don't Be Left

In The Dark

Our 6.0mm borescope has an impressive 20,000 Lux, 6-Stage LED illumination.
Seeing

Is Believing

The VJ-3 comes standard with a 3.5" IPS antiglare LCD monitor.
Industrial

Construction

We built the VJ-3 to last, with one of the highest IP ratings out on the market.
Peace

Of Mind

Part of the ViewTech advantage is the full 1-year warranty and free loaner program.
Support

After The Sale

We provide outstanding service before, during, and most importantly, after your purchase.
Next-Day

Shipping

Unlike our competitors we have hundreds of borescopes at our facility, ready to ship out.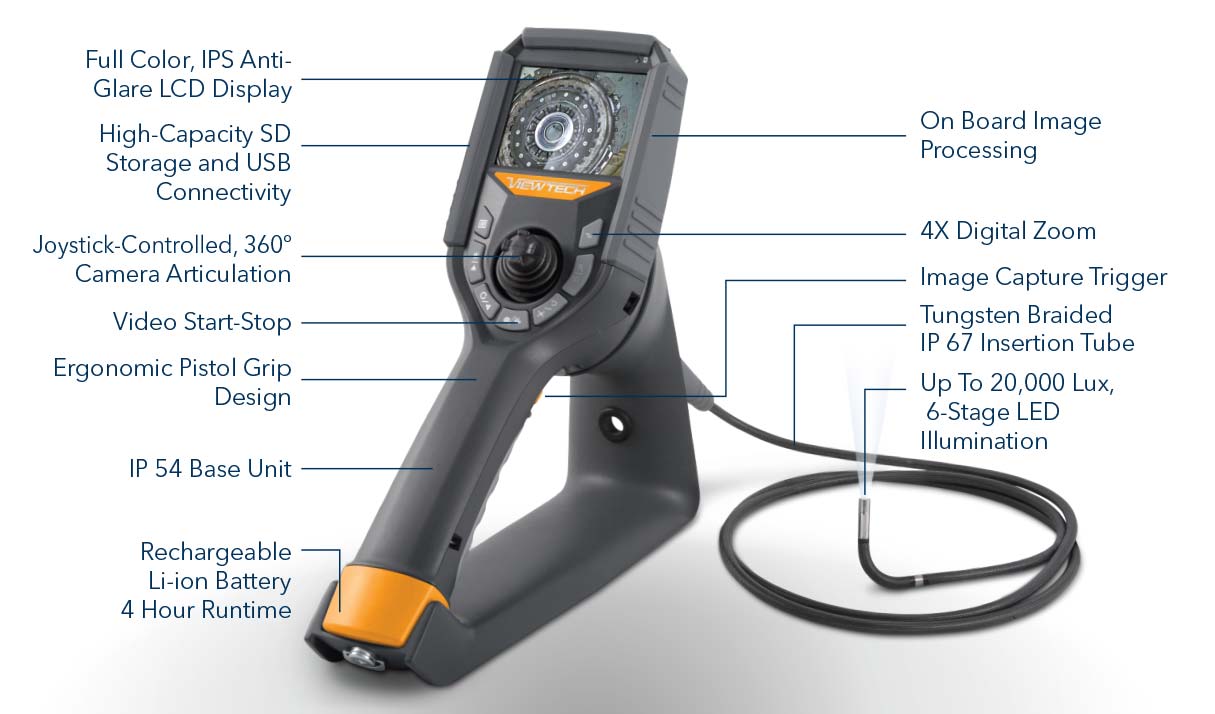 Insertion Tube
| | |
| --- | --- |
| Outer Diameter | 6.0mm |
| Length | 1.5m, 3.0m, 5.0m, 8.0m |
| Exterior Material | Tungsten EasyGlide, crush-resistant |
| Chemical Compatibility | Water, machine oil, heating oil, diesel, 3.5% saline concentrate |
| Articulation Range | 360° around, 160±10° backward |
Optics
| | |
| --- | --- |
| Field of View | 100° x 75° |
| Depth of Field | 7.0mm – ∞ |
| Effective Pixels | 450,000 pixels |
| Illumination Method | 6 Super high-intensity white LEDs |
| Illumination Output | ≤ 20,000lux |
Base Unit
| | |
| --- | --- |
| Display Monitor | 3.5″ IPS anti-glare LCD, 640*480 resolution |
| Articulation Control | Thumb-actuated, mechanical rocker |
| Joystick Lock | Automatic |
| Brightness Control | 6-step LED brightness adjustment |
| Control Buttons | Image capture, video capture, LED control, frame rotation, freeze frame, 4X zoom, menu access / navigation |
| Playback | Photos, videos (w/wo audio), thumbnail view |
| Audio / Microphone | 3.5mm headset / microphone jack |
| Internal Storage | 16GB SD Card / 10,000 photos or 8 hours video |
| Data I/O ports | SD card, micro USB, TV Out (NTCS / PAL) |
| Battery | One 18650B PCB-Protected Li-ion battery (replaceable) |
| AC Power (optional) | 100V – 240V |
| Operating Method | One handed, portable |
| Dimensions | 13.0″ x 12.0″ x 4.5″ |
| Weight | 2.2 lbs. / 1.0 kg |
Manufacturing and Options
| | |
| --- | --- |
| User Interface | Drop down operating menu |
| File Management | Photo and video recording, playback, thumbnail preview, delete |
| Image Control | Image rotation, live freeze, zoom in/out |
| Image Format | JPEG, optional date and time stamp |
| Video Format | AVI, optional date and time stamp |
| Language | English, Spanish |
Operating Limits
| | |
| --- | --- |
| Run Time | ≤ 4 Hours |
| Operating Temp. Base Unit | -20 – 50°C, -5 – 120°F |
| Operating Temp. Insertion Tube | F-10 – 50°C, 15 – 120°F |
| IP Rating, Insertion Tube | IP67 |
| IP Rating, Base Unit | IP54 |