ViewTech Borescopes
MINExpo International 2021
We'll see you there!
MINExpo International 2021
Location: Las Vegas Convention Center – Las Vegas, NV
Dates: 09/13/2021 – 09/15/2021
ViewTech Booth Number: 27340
Register to attend MINExpo 2021
MINExpo 2021 Website: https://www.minexpo.com/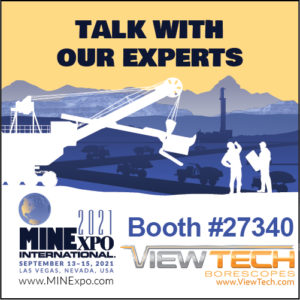 MINExpo brings together all the latest cutting-edge equipment, innovations, services and technologies to take your operations to a new level and fuels your long-term growth.
As the world's largest mining event, the show covers the entire industry – exploration, mine development, open pit and underground mining, processing, safety, environmental improvement and more.
ViewTech Borescopes Video – MINExpo International 2021 – Booth #27340