2.2, 2.8mm, 3.9mm & 6.0mm
Borescope Inspection Cameras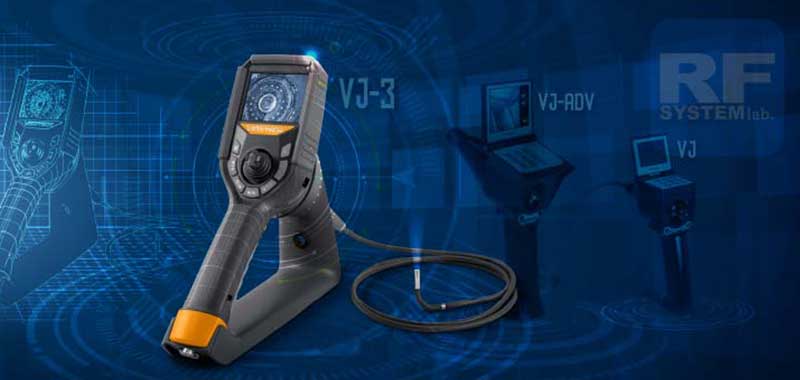 VJ-3 6.0mm, 3.9mm, 2.8mm & 2.2mm
Inspection Cameras
The VJ-3 is a high-end video inspection camera that delivers all the features you'd expect, at a price point that makes it accessible to almost anyone. Now, the VJ-3 remote inspection camera is available in 2.2mm, 2.8mm, 3.9mm, and 6.0mm diameter. Additional options include the Dual Camera video borescope, Far Focus video borescope, Infrared video borescope, and Ultraviolet video borescope. You can obtain a no obligation demo unit by giving us a call or by completing the demo request form. ViewTech Borescopes also has rental video borescopes for inspections.
All-In-One 
Unit
The VJ-3 video borescope is a stand-alone imaging unit. All the core functions you'd need from an inspection camera are built into this device that can be fully operated with just one hand. Move the articulating camera lens, snap a still image and start or stop the recording video with just one hand. As an added bonus, you can plug in an external computer monitor for larger viewing.
All the data captured can be exported for archiving or analysis purposes via an industry standard USB port or SD card. Watch a selection of video borescope inspection videos.
Articulating 
Camera
The 360 degree articulating tip is controlled by an easy and intuitive thumb operated joystick. The joystick provides the precision needed to get the camera lens where it needs to be without frustration. This articulation makes it the perfect borescope for engine inspection.
LED Inspection 
Light
Getting the camera into the optimal position is only half the battle. Once the inspection camera is in position, you'll need to be able to get proper lighting so you can see if or how bad the problem is. The VJ-3 provides brilliant LED lights that are adjustable to 5 different settings (including off), so that your view of the equipment isn't distorted or washed out due to under or over lighting.
Video 
Recording
With a 3.5 inch LCD screen and full image and video recording ability, you'll be sure to have the data needed for detailed analysis. Still images and video (including audio recording) are captured in resolution of 640 x 480 pixels and can be exported using a MicroSD card or USB cord.
Request A Free Demo Unit
Check the box in the form below and one of our representatives will arrange a free demo unit.

– Or –
Fill out the form below and one of our representatives will contact you.