Glossary
Remote Visual Inspection

Borescope
bawr-skohp
noun
Definition
Borescopes are used for Visual Inspections where the area to be inspected is unreachable or difficult to view without disassembly. While Video Borescopes use screen to relay a video image, regular Borescopes most frequently come with an eyepiece attachment. Often interchangeable with Fiberscopes, these fiber optic Borescopes are cheaper, less reliable, and can be difficult to repair. Most lower-end models do not provide Articulation, making them unable to perform more difficult inspections. Additionally, most of these tools are completely rigid. This only allows a maintenance technician to inspect a small amount of internal cavities. Most turbines, heat exchangers, large engines, pumps and valves, and gearboxes cannot be completely inspected by a rigid inspection camera due to the complexity of the system's design. Borescopes are commonly used in gun barrel inspections, or on smaller and less-complex engines (mostly for automobiles). Remote Visual Inspection (RVI) professionals tend to prefer Video Borescopes and Videoscopes for their inspections because of the image capture, video capture, and portability that some models can provide. Sometimes visual inspection technicians just cannot reliably complete an inspection without using a fully-articulating video borescope or Videoscope. Comparing images or videos to see how a particular defect has changed or grown allows professionals to predict when a defect might become too dangerous to leave untreated.
Related terms: predictive maintenance
Borescope Images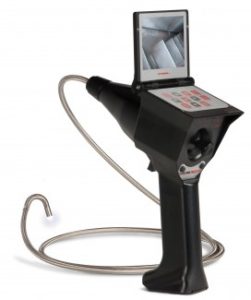 Request A Free Demo Unit
Check the box in the form below and one of our representatives will arrange a free demo unit.

– Or –
Fill out the form below and one of our representatives will contact you.