Glossary
Remote Visual Inspection

Electropolishing
ih-lek-troh-pol-ish-ing
noun
Definition
Sometimes referred to as Electrochemical Polishing or Electrolytic Polishing, Electropolishing is used to remove material or buildup from metallic parts. Electropolishing is commonly used in the maintenance of stainless steel and is known to provide clean and smooth surfaces, remove small burrs, polish materials that are unreachable by other polishing techniques, as well as other provide other maintenance and cleaning benefits. Much like how maintenance technicians invest substantial amounts of money in deburring equipment, significant time and money is also invested into this procedure for certain maintenance applications.
Related terms: predictive maintenance
Electropolishing Images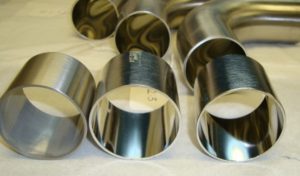 Request To Rent A Video Borescope
Complete the form below and one of our representatives will work with you to secure a rental borescope.

– Or –
Fill out the form below and one of our representatives will contact you.