Glossary
Remote Visual Inspection

ID Plate
id pleyt
noun
Definition
Some internal components of machinery come tagged with individual ID Plates. ID plates are built to withstand the harsh environments that are commonplace within industrial machinery. Serial and model numbers, manufacture dates, suggested replacement date, and Useful Life information can all be found on ID Plates. Video Borescopes and Videoscopes are the perfect tool for reading and capturing the critical information that can be found on internal ID Plates. Some of these inspection cameras can even inspect these identification plates while a machine is in use. Modern Inspection Cameras can withstand temperatures that are present in some industry machinery while it is online.
Related terms: predictive maintenance
ID Plate Images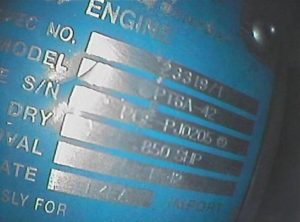 Request A Free Demo Unit
Check the box in the form below and one of our representatives will arrange a free demo unit.

– Or –
Fill out the form below and one of our representatives will contact you.