Videoscope Overview
Borescope Camera Systems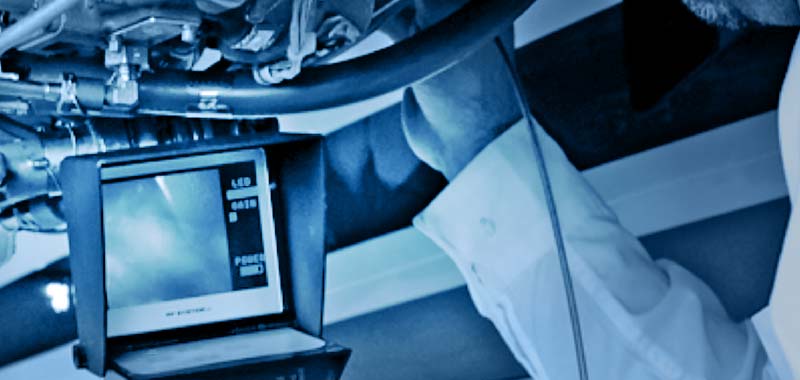 The VJ-3
Articulating Borescopes
ViewTech Borescopes is a world-wide leader in the remote visual inspection (RVI) industry. Our VJ-3 industrial videoscopes offer the best possible value for an industrial quality portable borescope. We offer a competitive price point and all of the features that are desired in an industrial inspection camera.
Borescopes are used for remote visual inspections (RVI) in areas where it is difficult or impossible for the human eye to directly see. Video borescopes are a valuable tool in numerous industrial and commercial applications, especially for repair inspections and routine maintenance inspections. They are commonly used in the remote visual inspection of engines, turbines, boiler systems, power plant equipment, industrial equipment, structures, and law enforcement situations.
Remote visual inspection using a quality "scope" can save many hours that would otherwise be required to disassemble and inspect internal components of critical systems. Our VJ-3 is well suited to a wide range of commercial and industrial inspection scenarios.
Video borescope camera systems are similar, but superior, but superior, to previous generation fiberscopes and rigid borescopes.
Fiberscopes serve the same basic function, however fiberscope cameras lack much of the functionality and overall performance characteristics of the video borescope. Borescope systems may be also be called a boroscope or boro scopes. A boroscope or boro scope is essentially the same as a borescope or fiberscope, although features may vary. Inspection camera is another name used for boroscopes.
Borescope Camera Features
Vary Greatly Among Brands
The most common characteristics that determine which model is best for a particular application include articulation, image quality, portability, weight, required power source, visual display clarity, image or video capture capabilities, insertion tube length and illumination. Typical RVI applications require a lightweight borescope that is also portable, does not require a "plug-in" power source, offers one-hand operation, crystal clear display and an ability to "steer" the borescope camera. Any borescope that can be "steered" is known as an articulating borescope.
The VJ-3 borescope is a perfect design for aviation RVI work.
Borescope Prices
Have a Wide Range
There are very simple rigid borescopes used for gunsmithing, very simple borescopes used for light commercial use which cost around $200, and high end articulating borescope systems that cost from $8,000 to over $100,000. Product options and specifications drive the differences in the cost of a borescope. Many manufacturing, industrial maintenance and inspections can be completed with an articulating borescope that costs under $10,000.
The many features on the battery operated VJ-3 video borescope are not usually found on older boroscope,
boro scope or fiberscope camera systems.
The VJ-3 is an ideal replacement for older boroscopes and fiberscopes, and is available at an incredible price for an industrial, articulating video inspection borescope. The VJ-3 video borescope offers 4-way articulation, easy to use joystick control, has a medical grade camera that takes video and still images, is extremely portable as it is battery powered, weighs only 23 ounces, and has the rugged construction required for industrial remote visual inspection or commercial RVI work. The VJ-3 video borescope can be shipped to you within 24 hours – no long lead times!
Request A Free Demo Unit
Check the box in the form below and one of our representatives will arrange a free demo unit.

– Or –
Fill out the form below and one of our representatives will contact you.