INTRODUCING THE
NEW DUAL CAMERA VJ-3 VIDEO BORESCOPE
The new VJ-3 Dual Camera video borescope is a 6.0mm diameter tip and has insertion tube lengths of 1.5 meters, 3.0 meters, 5.0 meters or 8.0 meters. The VJ-3 Dual Camera assists in viewing straight ahead and 90 degrees. Users can switch between the two cameras while keeping the borescope inside the current inspection area.
If you perform regular maintenance inspections, you owe it to yourself to demo the new Dual Camera VJ-3. Available in 1.5m, 3.0m, 5.0m & 8.0m lengths.
SEE THE VJ-3 Scope
In Action

Quality

You Can Trust

Part of the ViewTech advantage is the full 1-year warranty and free loaner program.
24/7

Support

We provide outstanding service before, during, and most importantly, after your purchase.
On-Site

Inventory

Unlike our competitors we have hundreds of borescopes at our facility, ready to ship out.
View

More

Our 6.0mm – Dual Camera borescope has 2 lenses both equipped with 6-Stage LED illumination.
A Grand

View

The VJ-3 comes standard with a 3.5" IPS antiglare LCD monitor
Rugged

Construction

We built the VJ-3 to last, with one of the highest IP ratings out on the market.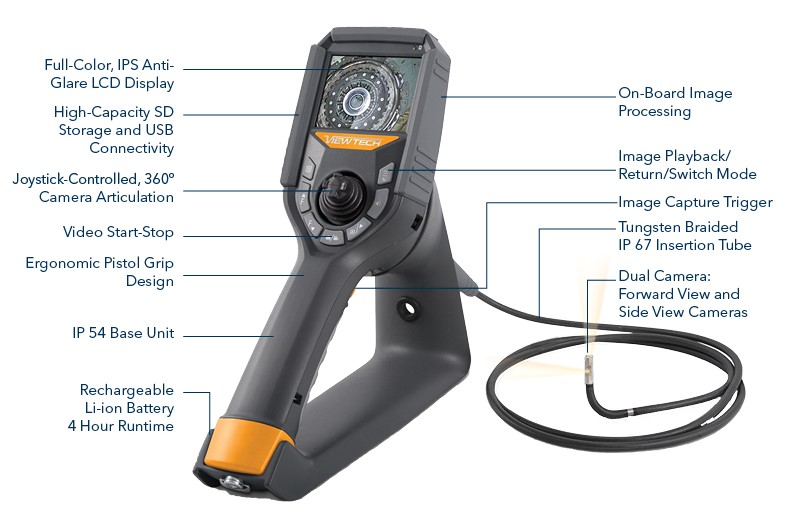 Insertion Tube
| | |
| --- | --- |
| Outer Diameter | 6.0mm |
| Length | 1.5m, 3.0m, 5.0m, 8.0m |
| Exterior Material | Tungsten EasyGlide, crush-resistant |
| Chemical Compatibility | Water, machine oil, heating oil, diesel, 3.5% saline concentrate |
| Articulation Range | 360° around, 160±10° backward |
Optics
| | |
| --- | --- |
| Field of View | 100° x 75° |
| Depth of Field | 7.0mm – ∞ |
| Effective Pixels | 450,000 pixels |
| Illumination Method | 6 Super high-intensity white LEDs |
| Illumination Output | Front camera ≤ 20,000lux, Side camera ≤ 4,000lux |
Base Unit
| | |
| --- | --- |
| Display Monitor | 3.5″ IPS anti-glare LCD, 640*480 resolution |
| Articulation Control | Thumb-actuated, mechanical rocker |
| Joystick Lock | Automatic |
| Brightness Control | 6-step LED brightness adjustment |
| Control Buttons | Image capture, video capture, LED control, frame rotation, freeze frame, 4X zoom, menu access / navigation |
| Playback | Photos, videos (w/wo audio), thumbnail view |
| Audio / Microphone | 3.5mm headset / microphone jack |
| Internal Storage | 16GB SD Card / 10,000 photos or 8 hours video |
| Data I/O ports | SD card, micro USB, TV Out (NTCS / PAL) |
| Battery | One 18650B PCB-Protected Li-ion battery (replaceable) |
| AC Power (optional) | 100V – 240V |
| Operating Method | One handed, portable |
| Dimensions | 13.0″ x 12.0″ x 4.5″ |
| Weight | 2.2 lbs. / 1.0 kg |
Manufacturing and Options
| | |
| --- | --- |
| User Interface | Drop down operating menu |
| File Management | Photo and video recording, playback, thumbnail preview, delete |
| Image Control | Image rotation, live freeze, zoom in/out |
| Image Format | JPEG, optional date and time stamp |
| Video Format | AVI, optional date and time stamp |
| Language | English, Spanish |
Operating Limits
| | |
| --- | --- |
| Run Time | ≤ 4 Hours |
| Operating Temp. Base Unit | -20 – 50°C, -5 – 120°F |
| Operating Temp. Insertion Tube | F-10 – 50°C, 15 – 120°F |
| IP Rating, Insertion Tube | IP67 |
| IP Rating, Base Unit | IP54 |