Benefits of Articulation
In Video Borescopes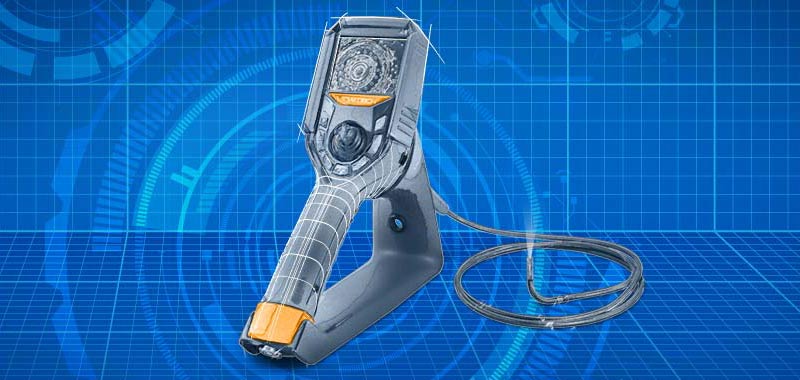 Benefits of Articulation
in Video Borescopes
There many benefits that articulating video borescopes offer, especially when discussing mechanically driven articulation.
Before diving into the benefits, it is important to note that not all applications require articulation. Some inspection applications have tiny diameters through the entire internal cavity, leaving little to no room for articulation. The most common of these applications is a rifle barrel inspection, where a rigid borescope would be a more appropriate inspection tool.
Most industrial applications, however, have small, restricted entrance points that open into a much larger cavity. This is why having an articulating video borescope is ideal for confidently completing internal inspections.
When using remote visual inspection (RVI), or FOD in internal cavities, articulation is the key to ensuring that the entire internal surface area is thoroughly inspected.
Imagine driving a car without being able to move your head side to side, to look down and check your speed, or up and look in your rear view mirror. That analogy is similar to using a non-articulating borescope to inspect internal parts. Inspections completed with non-articulating scopes can result in many details being overlooked, some of which can cause dangerous or critical situations.
Also, critical situations arise when FOD or cracks are ignored and using bendable, non-articulating videoscopes to complete inspections creates user frustration and wasted time. In any industry, time is money – repeatedly trying to bend a flexible borescope into shape to attempt to get it in the perfect position is a waste of both.
With high-end articulating inspection tools like the VJ-3 borescope, thorough internal examinations are completed with efficiency and the confidence that comes with being able to see all angles of an internal cavity. When RVI cameras do not have to be repeatedly re-positioned in order to complete inspections, maintenance technicians can minimize costly downtime.
But What About
Side View Attachments
Some may argue that non-articulating borescopes offer side view attachments (SVA) to create different viewing angles without having to invest in an articulating tool. While these lower-grade accessories do provide a somewhat equal alternative, they also have a major downfall – the potential to end up as FOD.
Side view attachments, which come in a variety of viewing angles, attach onto the end of non-articulating borescopes so that the user can see in different directions. Unfortunately, SVAs are infamous for becoming lodged within the cavity they are inspecting, which results in them creating FOD and causing more damage than was previously present.
MECHANICALLY-DRIVEN BORESCOPES VS.
SERVO MOTOR BORESCOPES
Articulating video borescopes are divided into two categories: mechanically driven and servo motor.
The VJ-3 video borescope is an example of a mechanically driven articulating borescope, which results in precise articulation that is virtually instantaneous. Servo motor borescopes are driven by a motor that tightens and loosens cables. With servo motors, there is guess-work needed to correctly position the articulating tip.
A common downfall to videoscopes that articulate using servo motors is that they have a small delay or lag in articulation, which leads to overshooting. Due to the lack of immediate movement when a direction is selected via joystick, the user tends to apply more force to the intended direction of the insertion tube tip. This is what leads to overshooting and articulating right past the area where you are trying to focus.
A more serious issue with servo motor controlled articulation is that there is a chance of accidental cable stretch, which can sometimes lead to those cables snapping and breaking. While mechanically-driven articulation provides real-time feedback to the user and allows them to feel tension when they are trying to put too much pressure on the articulating tip. Borescopes with servo motor controlled articulation do not provide any sign of resistance or feedback to the user. That is why, when trying to articulate in a small space, cables in borescopes with servo-powered articulation can snap without warning.
If you are experiencing user frustration or high repair costs for snapped cables, we'd like to invite you to try our no-cost, no-obligation demo program. Test out a VJ-3 video borescope at your own facility and see the difference that mechanically-driven articulation can make.
Request A Free Demo Unit
Check the box in the form below and one of our representatives will arrange a free demo unit.

– Or –
Fill out the form below and one of our representatives will contact you.