INTRODUCING THE NEW 3.9mm & 6.0mm ULTRAVIOLET

VJ-3

VIDEO BORESCOPE
The VJ-3 UV borescope facilitates endoscopic dye and fluorescent penetrant inspection testing by detecting internal and external surface defects such as micro-fractures, delamination, seams, incomplete fusion and other defects in all non-porous materials. ViewTech's ultraviolet video borescopes are also commonly utilized with riboflavin testing.
If your RVI application requires ultraviolet light, you owe it to yourself to demo the new 3.9mm and 6.0mm Ultraviolet VJ-3. Available in lengths ranging 1.0m to 3.0m.
In our discussions with many borescope technicians, we have found that technicians can often access their inspection targets from multiple locations. Using this principle, for example, a technician may be able to inspect a 19-foot pipe with an Ultraviolet (UV) 3-meter (9' 10") borescope if the inspector can start the inspection from each end of the pipe.
SEE THE VJ-3 Scope
In Action


See Beyond

The Surface

Our 6.0mm Ultraviolet borescope allows you to see in ultraviolet light to better catch defects.
Seeing

Is Believing

The UV VJ-3 is specifically designed for checking UV fluorescence reactant in special industries.
Industrial

Construction

We built the VJ-3 to last, with one of the highest IP ratings out on the market.
Peace

of Mind

Part of the ViewTech advantage is the full 1-year warranty and free loaner program.
Support

After the Sale

We provide outstanding service before, during, and most importantly, after your purchase.
Next-Day

Shipping

Unlike our competitors we have hundreds of borescopes at our facility, ready to ship out.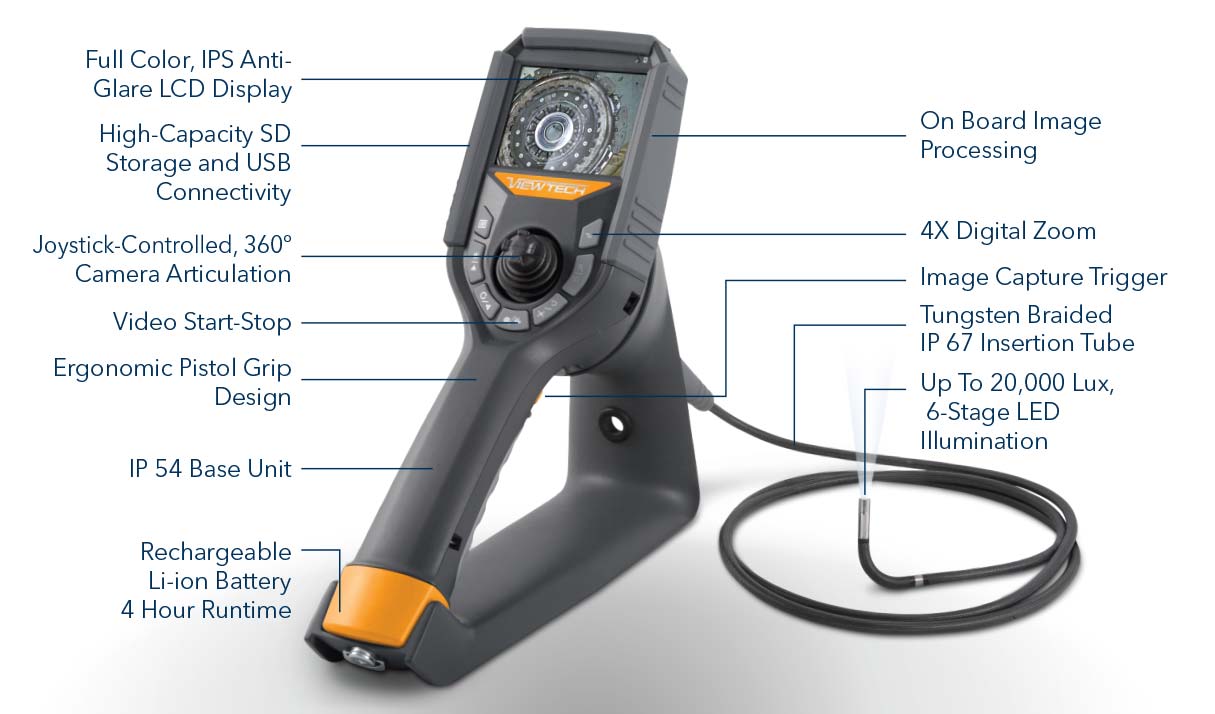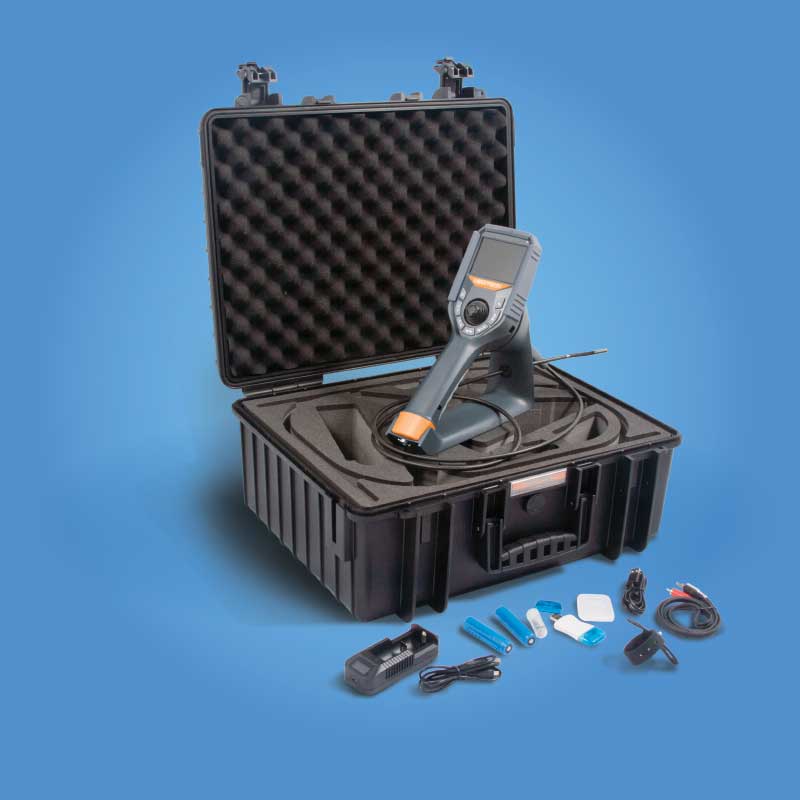 Packed With Power
WHAT'S INCLUDED WITH THE ULTRAVIOLET VJ-3 BORESCOPE:
ViewTech's 3.9mm & 6.0mm Ultraviolet video borescope
1.0m to 3.0m insertion tube
Removable stand

Optional magnetic floor plate stand

Rugged carrying case
2 Removable Li-ion batteries
Battery charger
AV cords
16 GB full-size SD Card
View Other
Video Borescopes
What Our Clients
Have to Say

It is great! I haven't really had a lot of time to really get into and play around with it but the little time I did have with it was awesome.
Sharon J.
Dassault Falcon Jet

Clarity on screen is tremendously better than the other scopes, we can almost see the bottom of the component immediately.

Yes they are very happy with the new scope. It is much clearer than the last one. Thank you!
Brenda W.
Cast Technologies
Request A Free Demo Unit
Check the box in the form below and one of our representatives will arrange a free demo unit.

– Or –
Fill out the form below and one of our representatives will contact you.